FORT LAUDERDALE-DAVIE, Fla.– March 10, 2014 - 
For the second straight season, Nova Southeastern University's (NSU) women's basketball team is the Sunshine State Conference (SSC) champion and No. 1 seed in the region. As such, the Sharks will host the NCAA South Region Championships, to be played beginning this Friday, March 14, at the NSU Arena at the Don Taft University Center.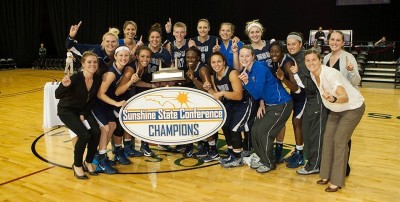 Playoff bound teams within the south region will travel to NSU for first round, semifinal and final competitions at the regional level. First-round games will be played March 14, semifinal games March 15, and the regional championship will be played March 17. In all, there will be seven games played at the arena over the course of four days.
The regional champions will advance to the NCAA Women's Elite Eight March 25, 26 and 28 at Erie Insurance Arena in Erie, Pennsylvania hosted by Gannon University.
NSU was one of three automatic qualifiers for the region, along with Gulf South Conference tournament champion University of West Florida and the winners of the Southern Intercollegiate Athletic Conference tournament, Benedict College.
Competitions at the NSU Arena are as follows:
First Round – Friday, March 14
Game One – 12:00 p.m. – No. 3 Rollins (24-6, SSC At-Large) vs. No. 6 Saint Leo (20-9, SSC At-Large)
Game Two – 2:30 p.m.  – No. 2 Tampa (22-6, SSC At-Large) vs. No. 7 West Florida (19-10, GSC Champions)
Game Three – 5:00 p.m. – No. 1 Nova Southeastern (25-4, SSC Champions) vs. No. 8 Benedict (20-9, SIAC Champions)
Game Four – 7:30 p.m. – No. 4 Delta State (24-5, GSC At-Large) vs. No. 5 Albany State (20-6, SIAC At-Large)
Second Round – Saturday, March 15
Game Five – 5:00 p.m. – Winner of Game One vs. Winner of Game Two
Game Six – 7:30 p.m. – Winner of Game Three vs. Winner of Game Four
South Region Championship – Monday, March 17
Game Seven – 7:00 p.m. – Winners of Second Round Games
For a comprehensive bracket of all games visit – NCAA Division II Women's Basketball Championship.
###
About Nova Southeastern University: Situated on 314 beautiful acres in Ft. Lauderdale, Florida, Nova Southeastern University (NSU) is a dynamic fully accredited research institution dedicated to providing high-quality educational programs at all levels.  NSU is a not-for-profit independent institution with 27,000 students. NSU awards associate's, bachelor's, master's, specialist, doctoral and first-professional degrees in a wide range of fields. NSU is classified as a research university with "high research activity" by the Carnegie Foundation for the Advancement of Teaching, and it is one of only 37 universities nationwide to also be awarded Carnegie's Community Engagement Classification. For more information, please visit www.nova.edu. Celebrating 50 years of academic excellence!
Media Contact:
Felecia Henderson, Ed.D | Office of Public Affairs
954-262-5315 (office)
954-383-4695 (cell)
fhenders@nova.edu
Tags: Don Taft University Center, NCAA South Region Championships, NSU Arena, Sunshine State Conference Champions, women's basketball