The Farquhar College of Arts and Sciences Division of Performing and Visual Arts will host Say What? Third Annual Juried Student Exhibition through Apr. 27. The exhibition will be held in Gallery 217 of the college's Performing and Visual Arts Wing in the Don Taft University Center.
Say What?, part of the college's Exhibition Series, features works created by NSU students who have completed art and design courses within the past year. The exhibition will showcase a variety of two- and three-dimensional artwork, including prints, digital art, paintings, photographs, drawings, and sculptural works.
This year's exhibition was prepared by members of the Art Sharks student club, who have worked closely with division faculty to organize, plan, and execute the exhibition. Art Sharks president Grace Cox, along with other art and arts administration majors in the college, selected the juror, designed the promotional graphics, curated the installations, and planned the opening reception.
Juror Mindy Shrago, co-founder and executive director of Young At Art Children's Museum in Davie, selected the student submissions that will be on display and will also administer the juror's awards for select works.
An opening reception will be held on Apr. 4 from 6 – 8 p.m., in Gallery 217, with an award presentation to begin at 6:45 p.m. Gallery visitors can also vote for the Patron Award during the first two weeks of the exhibition.
Gallery 217 Hours:
Tuesdays | 4–6 p.m.
Wednesdays| 12:30–4 p.m.
Thursdays | 1:30–6 p.m.
Or by appointment
For more information or to schedule an appointment, please contact Lindsay Bartels, in the college's Division of Performing and Visual Arts, at 954-262-7620.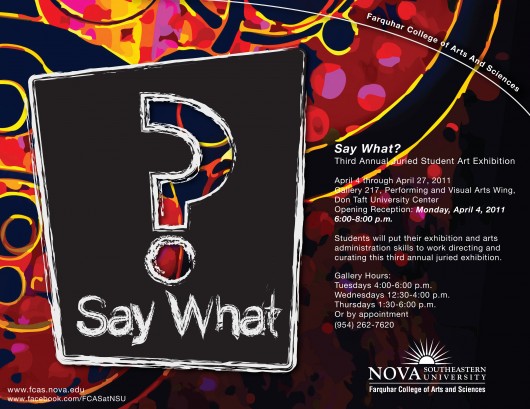 Tags: art exhibit, Division of Performing and Visual Arts, Farquhar College of Arts and Sciences, Grace Cox