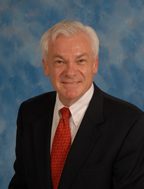 The Urban Land Institute (ULI) recently recognized Professor Michael Maxwell as the 2011 recipient of ULI's Robert M. O'Donnell Award.  The national award recognizes distinguished service to ULI's Advisory Panel Services one of its foundation programs and services to the nation.
Maxwell serves as the Interim Director of the H. Wayne Huizenga School of Business and Entrepreneurship's M.S. in Real Estate Development Program, which offers an intensive immersion in the core knowledge and skills required for success and leadership in the real estate industry. Over the years, he has led and participated in many of the most unique and innovative panels addressing highly complex urban design and economic issues in the U.S. In addition to Advisory Panel Service work, he serves as a ULI Daniel Rose Faculty for the ULI Daniel Rose Center, serving as mentor to the Mayor of Minneapolis and several of his staff in 2010.
This annual award serves as an ongoing remembrance of Bob O'Donnell, a stalwart contributor to the success of ULI. It acknowledges the time, effort, and commitment that a particular ULI member has given to the Advisory Services Program and enhances the importance of the Advisory Services as an outreach program of ULI.
ULI announced and presented the award at its 2011 Fall Meeting in Los Angeles at the Ritz Carlton Hotel at L.A. Live.
Tags: Michael Maxwell, Real Estate Development Program, Robert M. O'Donnell Award, ULI Daniel Rose Center, urban land institute