For the first time in the school's history, the Suns Varsity Football team played in the State Championship final, narrowly missing the title by one point in triple overtime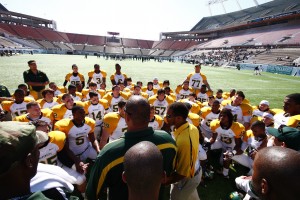 FT. LAUDERDALE-DAVIE, Fla. – For the first time in University School of Nova Southeastern University (NSU) history, the Suns Varsity Football team played in a State Championship final, and was defeated by a narrow one-point margin in triple overtime. The final score was 56-55.
The team played in the Class 2B state football championship against Trinity Catholic at the Citrus Bowl in Orlando on Dec. 11. The game-defining moment occurred when Suns receiver Macgarrett Kings went for a two-point conversion try from a yard out and was stopped at the line of scrimmage by Trinity's defense.
"I was supposed to sweep around the corner, but I decided to cut it up," Kings told the Sun-Sentinel. "I guess it wasn't our time this year."
"We made a collective decision," University School coach Roger Harriott told the newspaper. "We felt we could get some push and get Kings around the edge. Trinity played it tough and walks out of here with the victory." To view the complete article, please click here.
The team fought hard and had a great season, going 13-1. Several of the team's players and its coach have also received media coverage for their notable abilities, including:
Suns receivers Jordan Cunningham, Nicholas Kutscher, Macgarrett Kings and Daniel Braverman who were recently profiled in the Miami Herald.
Suns quarterback Douglas Cook who was recently profiled in the Miami Herald.
Suns coach Roger Harriott who was named Florida's 2B Coach of the Year and is in the running to become Florida's overall Coach of the Year. During his five years with the school, he has helped the team become a Broward County powerhouse and has compiled a 50-11 record. He was profiled in the Sun-Sentinel and Miami Herald.
The football team's outlook for 2011 looks equally as bright as 2010 has been. Check out this preview of next season which recently ran in the Miami Herald.
The school's athletic program has grown steadily over the past several years, with several seniors signing with universities on National Signing Day. Additionally, the school's athletes excel academically; 100 percent of its graduates are accepted to colleges and universities around the United States, and more than 90 percent are eligible for Florida Bright Futures Scholarships. 
For more information about University School of NSU, please visit www.uschool.nova.edu or call 954-262-4452.
About University School of Nova Southeastern University: University School is a pre-kindergarten through twelfth grade, independent college preparatory school that provides a challenging and personalized education within a supportive environment for students of average to gifted abilities. Our students are prepared for productive lives and leadership roles through a program that focuses on academic excellence, extracurricular participation and service to others. For more information visit www.uschool.nova.edu.
Media Contact:
Andra Liwag, NSU Office of Public Affairs
954-262-5309 (office), 954-873-8494 (cell), andrali@nova.edu

Tags: football, miami herald, Sun-Sentinel, University School