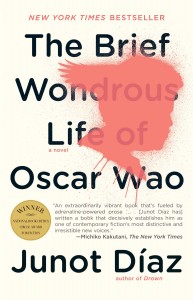 The Farquhar College of Arts and Sciences invites new undergraduate students to apply for the college's First-Year Reading Program for the 2011–2012 academic year. This year, participants will be reading The Brief Wondrous Life of Oscar Wao in anticipation of author Junot Díaz's visit at this year's Convocation ceremony on Tuesday, Sept. 6.
The Pulitzer Prize-winning novel follows Oscar, a sweet, overweight "ghetto nerd" from New Jersey who aspires to become a Dominican-American version of author J.R.R. Tolkien. But standing in his way is the curse of fukú, which has haunted Oscar's family for generations. The story opens readers' eyes to an astonishing vision of the contemporary American experience while exploring the endless human capacity to persevere—and risk it all—in the name of love.
Students will receive a free copy of Díaz's book and participate in small reading groups, giving them the opportunity to discuss the book with their peers and college faculty members. Students will also have the chance to hear from the author himself as he delivers the keynote address at NSU's 2011 Convocation ceremony. A select group of participants also will receive an invitation to a private seminar dinner with the author.
Participation in the college's First-Year Reading Program is free, but space is limited. For consideration in the program, please apply online now by visiting www.fcas.nova.edu/student/first_year_reading.
Tags: Farquhar College of Arts and Sciences, First-Year Reading Program, Junot Diaz