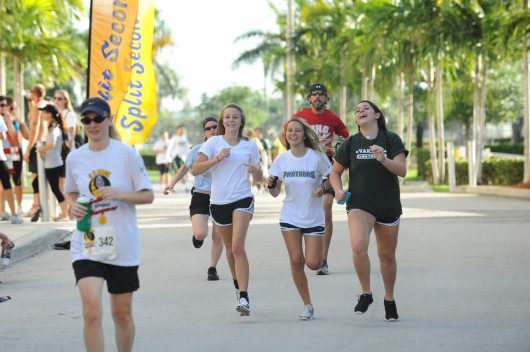 More than 800 Special Olympics fans recently participated as a runner, walker, or "virtual runner" in the sixth annual Sallarulo's Race for Champions 5K Run/Walk at NSU.
The May 1 event benefits Special Olympics Broward County (SOBC), which provides FREE athletic programs to enrich the lives and improve the confidence of children and adults with intellectual disabilities. Through sports training and competition, Special Olympics athletes develop physically, socially, and psychologically.
Local Special Olympics athletes were also on hand to participate in the race, cheer on runners, and present medals. The 2011 race was also held in memory of Don Taft, who was a great friend, philanthropist, business leader, amazing supporter of the community, and namesake of NSU's Don Taft University Center.
He had a special interest in athletes and in youngsters with special needs, and found a way to combine the two by helping SOBC find a new, permanent home at NSU. It was through this relationship that in 2009, the Don Taft Foundation made a generous gift to NSU, and the 366,000 square-foot Don Taft University Center was named in his honor.
Now, NSU is the only private college in the nation to have a Special Olympics chapter located on its campus. The special athletes of Broward County have full access to NSU's state-of-the-art arena, basketball court, Olympic-sized swimming pool, and other athletic facilities.
Sallarulo's Race for Champions 5K Run/Walk was created by Paul Sallarulo, a member of the NSU Board of Trustees, to raise money for Special Olympics Broward County. In the past five years, the event has raised more than $2.475 million to benefit the athletes of Special Olympics.
For more information or to volunteer, please call 954-262-2150.
Tags: 5K Run/Walk, Paul Sallarulo, Sallarulo's Race for Champions, Special Olympics Broward County