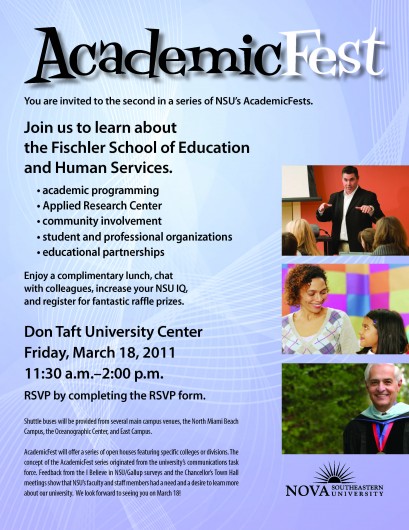 The Fischler School of Education and Human Services is pleased to invite you to  AcademicFest on Friday, Mar. 18, from 11:30 a.m. to 2:00 p.m. Shuttle buses will be provided to the Don Taft University Center from several main campus venues, the North Miami Beach Campus, the Oceanographic Center and East Campus.
RSVP early if you are planning to attend, by completing the RSVP Form.
Door Prizes include:
One Annual Family/Dual Membership to the Museum of Art, Fort Lauderdale
One Round of Golf for Two at Grande Oaks Golf Club
Lunch or Dinner for two at the Faculty/Shark Club
Gift Baskets
NSU/ FSEHS Tote bags
Apparel
Gift cards, sponsored by the Common Knowledge Scholarship Foundation

1- $300 American Express Gift Certificate
1- $200 American Express Gift Certificate
2- $100 Shula's Steak House Gift Certificate
10 – $50 American Express Gift Certificates
2 – $25 Anthony's Coal Fired Pizza Gift Certificates
And more!
Those attending all AcademicFests may qualify for the following:
Color Printer
Sprint Bluetooth
Grand Prize:
American Airlines round-trip for two
Parking on main campus is limited; therefore, those who are commuting by car are asked to park in the employee parking section of the Parking Garage.
We look forward to seeing you on Mar. 18!
Tags: Abraham S. Fischler School of Education, AcademicFest, art, CERT, certificates, COM, Common Knowledge Scholarship Foundation, Don Taft, Don Taft University Center, education, faculty, Fischler School of Education, golf, grande oaks golf club, NSU, oaks golf club, Oceanographic Center, open house, Research, scholarship, show, Sprint, sun, Town Hall Meeting