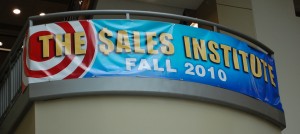 Sales managers and executives from across the South Florida business community are invited to attend three complimentary workshops designed to help you and your sales team thrive. Sponsored by NSU's Huizenga Sales Institute, the workshops will be taught by foremost sales expert John F. Riggs. Participants will learn how to identify sales leaders, recruit a winning sales team and maximize their performance.
The workshops will cover:
From Salesman to Sales Manager, Thursday, May 5.
Building a Winning Sales Team, Tuesday, June 28.
Sales Coaching 101, Wednesday, August 10.
The May 5 workshop at 8 a.m. is sold out. A new session has been added, from 1:30 to 5:00 p.m.
The June 28 and Aug. 10 workshops will be held from 8 a.m. – 12 p.m. Breakfast will be served and seating is limited.
Don't miss your opportunity to become a more effective sales manager and learn how to increase your sales team's productivity.
RSVP today by calling 954-262-5026 or at www.NSUsales.com/workshops.
Tags: H. Wayne Huizenga School of Business and Entrepreneurship, Huizenga Sales Institute