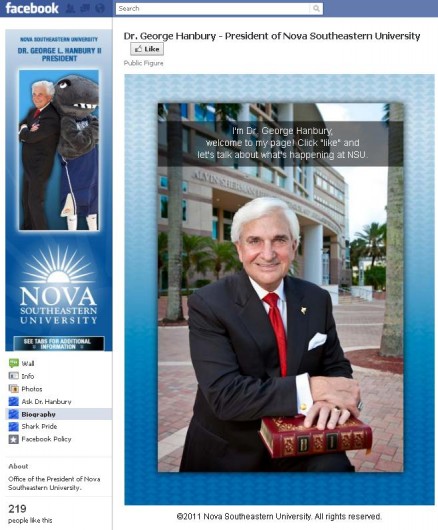 Have you ever wondered what it would be like to be President of NSU? Then be sure to "Like"  President Hanbury's Facebook Fan Page and find out what our head Shark is up to!
Having a presence on social media is part of Dr. Hanbury's key initiatives to improving communication throughout all academic and administrative units and fostering a shared vision of "one NSU."  By having a presence on Facebook, Dr. Hanbury will respond to student questions, promote events, and increase engagement in the larger NSU community.   Custom applications to his Facebook Fan Page include sections for his biography, Shark Pride – facts about NSU, and "Ask Dr. Hanbury" a form where fans can ask him a question.  
His Facebook Fan Page will be linked from the web page, www.nova.edu/president/.
For information regarding the president's Facebook Fan Page, please contact social@nova.edu or (954) 262-2128.
Head over to President Hanbury's Facebook Fan Page to become a fan today!