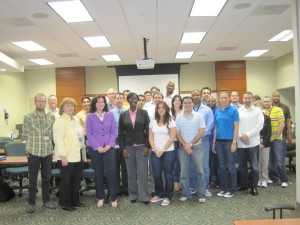 The H. Wayne Huizenga School of Business and Entrepreneurship's Hudson Center of Entrepreneurship and Executive Education is pleased to announce that 29 employees from NSU's Office of Information Technology completed the course work for the Lean Six Sigma Green Belt Certification on January 27. Classes took place over four months, with the group meeting eight Fridays and numerous times in between to complete group work.
The participants were divided into three groups, each working on a real-world project from OIT. Each team will make a final presentation to Tom West, NSU's VP of Information Technology and Chief Information Officer, illustrating their process improvement recommendations. Once they have taken the certification exam, each participant will be presented with a plaque and will be eligible to take the Lean Six Sigma Black Belt Certification class.
The Hudson Center offers Lean Six Sigma Yellow Belt, Green Belt and Black Belt training to individuals and corporations. Learn more at www.nova.edu/execed.
Tags: Hudson Center of Entrepreneurship and Executive Education, Lean Six Sigma Green Belt Certification, Office of Information Technology