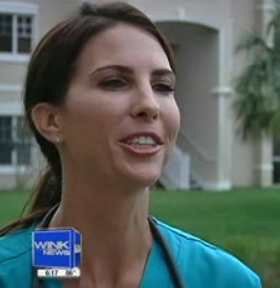 Nursing student at NSU's Fort Myers Student Education Center, Shawna Storozuck, recently put her CPR skills to the test and, in doing so, saved a boy's life.
"This was my first time on a live person," she exclaimed, "My window was open and all of the sudden I heard a lady screaming, 'Help he's choking!'" Running from her apartment, she found a panicked mother holding her baby boy.  "I think by the time she got to him he was already pretty blue and not breathing," said mother, Milay Duenas. Six-month-old Michael Duenas, was choking on a snack. "I told her, 'I'm certified in CPR,' grabbed the child and quickly assessed him. I did everything I learned and was told to do," she said. Michael's mom tried to dislodge the food with her finger, but only made matters worse. "I didn't want him to go in my arms," Duenas said.  Shawna says she has a checklist in her head and says without proper training you definitely go into a panic-mode. Colin Downey with the Red Cross trains people on CPR and says that knowing what to do makes all the difference. "We hear that a lot from responders who do these kinds of saves, all of the sudden they go back into the textbook," said Downey.  Storozuck was happy to be in the right place at the right time. "Oh, it was so sweet. After I had given the child to the paramedics, the child actually looked in my eyes for like 5 seconds. It was as if he knew. So it was pretty cool".
NSU Fort Myers is proud to call Shawna one of our Sharks and applauds her bravery in the community.
Tags: CPR, Fort Myers, Michael Duenas, nursing, rescue, save, Shawna Storozuck