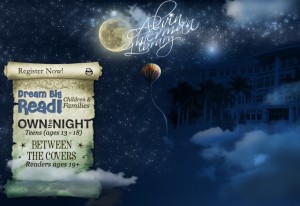 Savvy Broward County insiders know the one-stop-spot for FREE summer fun for all ages is NSU's Alvin Sherman Library, Research, and Information Technology Center.
That's right, we said library! For the 11th year in a row, FREE offerings for youth, teens, families and adults will take place through Aug. 6 at the Alvin Sherman Library.
The party, hosted with South Florida Parenting, features music, games, contest with prizes, a show with guest performers. Participants can also sign up to win prizes for reading all summer (get a jumpstart at www.nova.edu/library/summer).
The party is a great time to learn about the many other FREE summer activities available. Check out the Super Star Saturdays with Special Guests for family-oriented activities from 2-3 p.m. on each date, appropriate for all ages (with a caregiver):
On Aug. 4 – Bits 'N Pieces Marionettes' Rumpelstiltskin. Classic tale of a beautiful miller's daughter, a greedy king, and an impish creature spinning straw into gold.
For the complete listing of summer events, please click here.
To sign up for the summer reading program, please visit www.nova.edu/library/summer or call 954-262-5477.