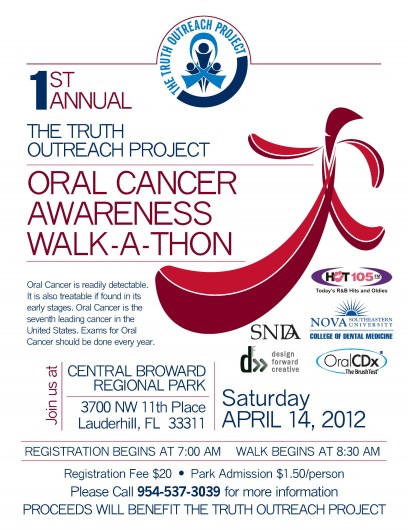 On Saturday, Apr. 14, NSU's College of Dental Medicine will host the inaugural Oral Cancer Awareness Walk-A-Thon in collaboration with HOT105, the Student National Dental Association (SNDA), Design Forward Creative, and Oral CDx The Brush Test.
The event will be held at the Central Broward Regional Park.
The Walk-A-Thon is one in a series of events the College will be sponsoring during Oral Cancer Awareness Month. Proceeds from the events will benefit The Truth Outreach Project.
See flyer for more details.
Tags: Awareness, Brush, Oral Cancer, SNDA, Walk-A-Thon