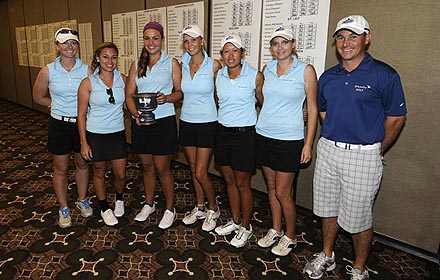 Leading from start to finish, the NSUwomen's golf team picked up their third consecutive victory in the NSU Shark Invitational by a six stroke advantage. The Sharks shot a two-round score of 584 (293-291) for the win on the 6,115-yard, par 72 Palmer course at PGA National.
Senior Taylor Collins (Ft. Lauderdale, Fla.) erupted in the second round of play firing a blistering five-under par 67 in the second round, bettering her first round 73 to win individual medalist honors. She fnished the tournament at four-under 140.
The Sharks will return to action on Oct. 29 at the Lady Paladin Invitational hosted by Furman University in Greenville, S.C.
Tags: golf, NSU Shark Invitational, Taylor Collins