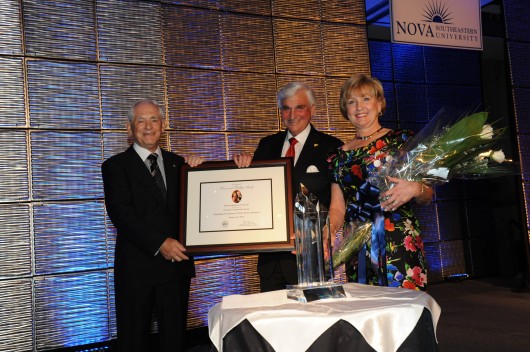 (Photo caption: Ron and Kathy Assaf accept President's Community Award from Dr. Hanbury.)
NSU recently hosted the annual Celebration of Excellence banquet at the Signature Grand where philanthropists and business leaders Ron and Kathy Assaf were awarded the university's highest honor, the President's Community Award.
"Through their professional achievements and dedication to numerous civic causes, Ron and Kathy Assaf, together and individually, have made a profound impact on the South Florida community," said NSU President and CEO George L. Hanbury II, Ph.D.  "Ron and Kathy are inspirations to this community. Through their leadership and philanthropic gifts, they have enriched the lives of thousands by assisting them in fulfilling their aspirations and dreams.  They truly exemplify the core values of Nova Southeastern University."
Since 1997, the Celebration of Excellence has brought together NSU students, alumni, community leaders and industry pioneers who have made significant contributions to their studies, professions and our community. Several members of the President's 64, an elite group of student leaders, attended this year's event.
During the banquet, outstanding students were recognized and the 2011 Distinguished Alumni Achievement Awards were presented to graduates of the university's schools, colleges and centers.   Honorees are:
College of Health Care Sciences– Teresa Murphy-Price, M.M.S., '99,- Physician Assistant to Haiti Health Ministries Clinic.
Institute for the Study of Human Service, Health, and Justice – Dennis Plaska, M.S., '10, Crime Scene Detective, Broward County Sheriff's Office.
Center for Psychological Studies – Benjamin Toll, Ph.D., '02, Assistant Professor of Psychiatry; Program Director, Smoking Cessation Service at Smilow Cancer Hospital at Yale-New Haven
Graduate School of Computer and Information Sciences – Daniel Hatton, Ph.D., '91, Self-employed business and IT consultant; and an NSU College of Osteopathic Medicine Adjunct Associate Professor of Biomedical Informatics.  Highly decorated veteran attaining the rank of Colonel.
Farquhar College of Arts and Sciences – Chad Bobik, B.S., '99, Physician Account Manager for Conficare Home Health Solutions in Hobe Sound, FL.
Abraham S. Fischler School of Education- Cathy Areu, M.S., '95, founder owner and publisher of CATALINA, the largest Hispanic women's magazine targeting U.S. Latinas.  Areu, located in NYC, makes frequent appearances as an expert on entertainment, pop culture, politics, and women's issues on national cable news programs including HLN, CNN, MSNBC, and FOX.
College of Dental Medicine – Michael Roseff, D.M.D.,'04, Dentist and owner of Roseff Pediatric Dentistry.  Provides dental care for infants, children, adolescents and those with special health care needs.
College of Optometry -  Briana Shelton, O.D., '01, owner, president and optometrist of Briana Shelton, O.D., P.A., Professional Vision Center in Marion, North Carolina.
College of Osteopathic Medicine – Ronald Renuart, D.O., '90, practices internal medicine in the Jacksonville Beaches area.  In June 2010 he retired after 20 years of decorated service as a Colonel in the Florida Army National Guard.  Renuart has served in the Florida House of Representatives since 2008.
College of Pharmacy – Venessa Price, Pharm.D., '98, Director of Pharmacy Services, Jackson Memorial Hospital, Miami.
Shepard Broad Law Center – Yale Galanter, J.D., '83, attorney and nationally recognized authority in the field of criminal litigation.
MOA|FL AutoNation Academy of Art and Design- Kristopher Keimel – Lead Teacher's Assistant at the museum. He is a junior at Florida Atlantic University.
Mailman Segal Center for Human Development – Casey Stewart, front-end clerk at Publix grocery store and appointed in 2006 by Gov. Bush as a Florida Developmental Disabilities Council member.  Casey is also a Best Buddies Ambassador for Broward County.
Oceanographic Center- Clay Beauregard, M.S.,'97, Principal Scientist at Alcon Laboratories in Fort Worth, Texas. His research has led to new drug discoveries and treatments in ocular allergic and inflammatory diseases.
H. Wayne Huizenga School of Business and Entrepreneurship – Audrey Marks, M.B.A., '91, Jamaica's 10th Ambassador to the United States and Permanent Representative to the Organization of American States.  Founder of Paymaster, Limited.
Graduate School of Humanities and Social Sciences, Cherise James, M.S., '09, Residence Life Coordinator – South Campus at Wake Forest University.
University School '93 – Keith Poliakoff, J.D., practicing attorney with Becker & Poliakoff's Government Law Group.
Tags: . Wayne Huizenga School of Business and Entrepreneurship, 11, Abraham S. Fischler School of Education, academy of art and design, ACCO, ACT, alumni, Army National Guard, art, Arts, Audrey Marks, AutoNation, award, Awards, banquet, beaches, Broward County Sheriff's Office, business, cancer, Care, celebration of excellence, Center for Psychological Studies, children, CNN, College of Dental Medicine, College of Health Care Sciences, College of Optometry, College of Osteopathic Medicine, College of Pharmacy, Colonel, COM, computer, computer and information sciences, Council, D.O., dental, dental care, Developmental Disabilities Council, Director, disabilities, Distinguished Alumni Achievement, Distinguished Alumni Achievement Award, education, Entrepreneurship, EPA, Farquhar, Farquhar College of Arts and Sciences, George L. Hanbury, George L. Hanbury II, Gift, government, graduate, Graduate School of Computer and Information Sciences, Graduate School of Humanities and Social Sciences, H. Wayne Huizenga, H. Wayne Huizenga School of Business and Entrepreneurship, haiti, health, health care, Honor, Huizenga School of Business and Entrepreneurship, Humanities, Humanities and Social Sciences, J.D., Jacksonville, Jamaica, lab, law, Law Center, leadership, LLI, M.B.A., M.S., Mailman Segal Center, Mailman Segal Center for Human Development, MBA, Medical, Nova Southeastern Universit, Nova Southeastern University, NSU, Ocean, Oceanographic Center, office, Optometry, Osteopathic, Osteopathic Medicine, PA, Ph.D., Pharmacy, philanthropist, physician assistant, president, professor, programs, publish, Research, Ron and Kathy Assaf, SAT, School of Humanities and Social Sciences, Science, Shepard Broad, Shepard Broad Law Center, Students, study, University School, WHO, Yale Galanter