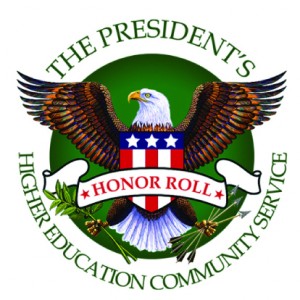 Nova Southeastern University (NSU) was named to the 2013 President's Higher Education Community Service Honor Roll by the Corporation for National and Community Service (CNCS). This designation is the highest honor a college or university can receive for its commitment to volunteering, service-learning, and civic engagement.
"We're honored to receive this prestigious award – and owe much of it to the students themselves. They're the energy driving our commitment and they're the ones who make it all happen," said George L. Hanbury, Ph.D., president and CEO of NSU.
In addition to being named to the President's Higher Education Community Service Honor Roll, NSU is also one of only 37 universities nationwide to be recognized both with "high research activity" and the Community Engagement Classification by the Carnegie Foundation for the Advancement of Teaching.   NSU goes beyond its primary mission of providing school and university curricula by reaching out to the community with diverse service and clinical programs, community-based research and resources.
"At NSU, community is one of our eight core values, so it comes as no surprise that we are being recognized for our superior community engagement," added Hanbury.
"Congratulations to NSU, its faculty and students for its commitment to service, both in and out of the classroom," said Wendy Spencer, CEO of CNCS.  "Through its work, institutions of higher education are helping improve their local communities and create a new generation of leaders by challenging students to go beyond the traditional college experience and solve local challenges."
Inspired by the thousands of college students who traveled across the country to support relief efforts along the Gulf Coast after Hurricane Katrina, CNCS has administered the award since 2006 and manages the program in collaboration with the U.S. Department of Education and the U.S. Department of Housing and Urban Development, as well as the American Council on Education and Campus Compact.
More information about NSU's community service efforts can be found at http://www.nova.edu/community/outreach.html.  More information on eligibility and the full list of Honor Roll awardees can be found at nationalservice.gov.   
The President's Higher Education Community Service Honor Roll honors the nation's leading higher education institutions and their students, faculty and staff for their commitment to bettering their communities through service. These are institutions that reflect the values of exemplary community service and achieve meaningful outcomes in their communities.
The Corporation for National and Community Service (CNCS) is a federal agency that engages more than five million Americans in service through Senior Corps, AmeriCorps, the Social Innovation Fund and other programs, and leads President Obama's national call to service initiative, United We Serve.
Tags: ACR, ACT, ADE, ARC, art, award, Awards, Bach, Carnegie Foundation, CEO, Challenges, clinic, Clinical, coast, COM, Community, Community Service, Congratulations, Council, design, Dive, diversity, Doc, Doctoral, education, ELP, energy, EPA, ESS, FAC, FACU, faculty, federal, Florida, Foundation, fun, George L. Hanbury, GRE, h, higher education, Honor, honors, IMA, improv, information, ING, IRS, Jackson, lab, LAS, LEAD, LLI, Local, MP, Nationals, Nova Southeastern Universit, Nova Southeastern University, NSU, OAS, Obama, Outreach, PA, Ph.D., president, President Obama, President's National Honor Roll for Community Service, Presidents, programs, Research, RI, Roll, sing, staff, student, Students, sun, Support, teaching, TED, title, un, UNC, vol, volunteer, WHO