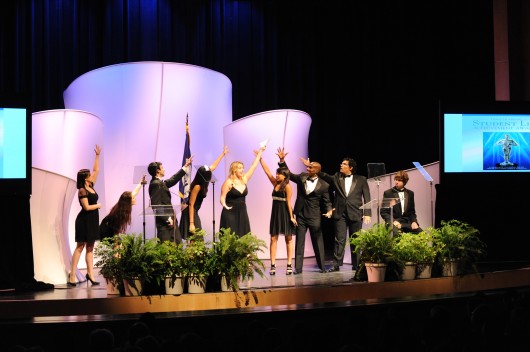 NSU recently recognized its finest during the glitz and glamour of the 12th Annual Student Life Achievement Awards – affectionately known as the "STUEYS."
The Apr. 12 event honored 28 students, faculty, staff, corporate partners and alumni who have contributed to building a greater sense of community and campus life, and exemplified scholarship, leadership, involvement, service, commitment, integrity and inclusion.
The annual award ceremony included special performances from the Farquhar College of Arts and Sciences Theater Department and the NSU Vocal Ensemble. A VIP Pre-Reception was held at the Carl DeSantis Atrium and a Post-Reception immediately followed the ceremony.
Congratulations to the 2011 STUEY winners, which include:
Undergraduate Organization of the Year: Community Action Using Student Empowerment
Corporate Partner of the Year: American Express
Male Athlete of the Year: Alex Gynes (Basketball)
Graduate Organization of the Year: National Optometric Student Association (Optometry)
Student Government of the Year: Center for Psychological Studies Student Government Association
Co-Curricular Adviser of the Year: Charlene Smith, J.D. (Law
SEC Student of the Year: Jacqueline Lacal (Palm Beach
Staff Person of the Year: Denise Fournier  (SHSS)
Female Athlete of the Year: Abbie Tepe (Basketball)
Administrator of the Year: Dennis Dannacher, M.S. (Huizenga School)
Professor of the Year: David Boesler, D.O. (Osteopathic Medicine)
Alumni of the Year: Linda Lopez, Ed.D. (FSE)
Executive of the Year: Carsten Evans, Ph.D. (Pharmacy)
Student of the Year – Overall: Anthony Campenni
 To see more photos of the winners, please visit SharkFINS at http://sharkfins.nova.edu/?p=5679.