Reducing stress and maintaining good physical and emotional health have been scientifically proven to help individuals lead a happy and balanced life, which is why Edye Groseclose, Ph.D., a professor of biochemistry at NSU's College of Medical Sciences, began offering free meditation instruction and sitting meditation sessions to NSU's College of Osteopathic Medicine students and others several years ago.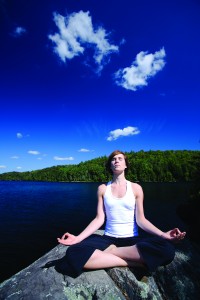 The sessions, which are open to anyone on campus interested in participating, take place weekly in the Health Professions Division Library Teaching Lab on:
Mondays—4:30 p.m. in Sherman Library
Tuesdays – 10 a.m. in Sherman Library
Wednesdays – 7:20p.m. in HPD library
During these mediation interludes, the participants sit quietly and comfortably, either in chairs or on mats, and practice mind‐calming breath awareness.
For additional information, send email to: meditate@nova.edu<mailto:meditate@nova.edu.
Tags: College of Medical Sciences, Edye Groseclose, Meditation