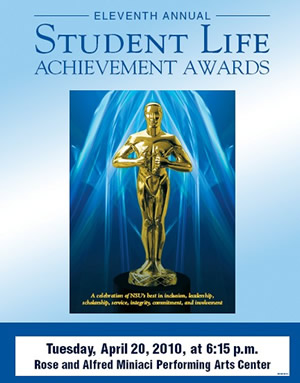 The finalists for the 11th annual Student Life Achievement Awards, affectionately referred to as the STUEYS, have been announced. The winners will be announced at the STUEYS, which will be held on April 20 at 6:15 p.m. in the Rose and Alfred Miniaci Performing Arts Center on NSU's main campus.
The STUEYS is an annual celebration of NSU's best in scholarship, leadership, involvement, service, commitment, integrity, and responsibility.
Limited seating is available. Tickets may be obtained in the Student Affairs Office located in the Athletics and Student Affairs Building (ASA), Room 102A, on the main campus. For more information, please call (954) 262-7492.
A reception will be held immediately after the event in the lobby/plaza area outside of the theatre.
2010 Student Life Achievement Award Finalists
NSU UNDERGRADUATE ORGANIZATION OF THE YEAR
Haitian Student Association
Lambda Theta Alpha
Delta Phi Epsilon*
Pre-Medical Society
Beta Theta Pi
NSU CORPORATE PARTNER OF THE YEAR
Chartwells
Vision Service Plan
Paramount Vending and Coffee Services
American Red Cross
ANF, Group Inc.
NSU NCAA MALE ATHLETE OF THE YEAR
Eric McCans (Baseball)
Craig Heenighan (Soccer)
Ben Vertz (Golf)
Alex Gynes (Basketball)
Matt Meagher (Cross Country)
NSU GRADUATE ORGANIZATION OF THE YEAR
Ethnic Minority Association of Graduate Students (CPS)*
Student National Medical Association (Osteopathic Medicine)
Student Volunteer Optometric Service to Humanity (Optometry)
Shark Pride Committee (SHSS)
Nova International Student Association (Farquhar)
NSU STUDENT GOVERNMENT OF THE YEAR
West Palm Beach SEC Student Government Association
College of Osteopathic Medicine Student Government Association
School of Humanities and Social Sciences Student Government Association
Student Bar Association
Undergraduate Student Government Association
NSU CO-CURRICULAR ADVISOR OF THE YEAR
Donna Smith (Jacksonville SEC)
Edward Packer, D.O. (Osteopathic Medicine)
Sharon Siegel, D.D.S. (Dental Medicine)
John Lewis, Ph.D. (CPS)
Carla Withrow (Huizenga)
SEC STUDENT OF THE YEAR
Chih Chin (West Palm Beach)
Lauren Overstreet (Jacksonville)
Edward Alvarez (Miami)
Melanie Figueroa (Orlando)
Sheryl Stewart (Tampa)
Jennifer Crews (Fort Myers)
NSU STAFF PERSON OF THE YEAR
Jorge Sanchez (Jacksonville SEC)
Elaine Brenner (ESS)
Karen Gruenstrass (Huizenga)
Leslie Jones (Osteopathic Medicine)
Dawn Dacosta (Pharmacy)
NSU NCAA FEMALE ATHLETE OF THE YEAR
Sandra Changkija (Golf)
Lauren Lopez (Softball)
Abbie Tepe (Basketball)
Ashley Lofria (Rowing)
Carly Perschnick (Volleyball)
NSU ADMINISTRATOR OF THE YEAR
Mike Mominey (Athletics)
Fran Franconeri (Optometry)
Barbara Karpel (Optometry)
Ana Martinez, Psy.D. (CPS)
Leanne Lai, Ph.D. (Pharmacy)
NSU PROFESSOR OF THE YEAR
Russell Abratt, Ph.D. (Huizenga)
Lori B. Dribin, Ph.D. (Osteopathic Medicine)
Emily Schmitt, Ph.D. (Farquhar)
Barry Nierenberg, Ph.D. (CPS)
Angela Gilmore, J.D. (Law)
NSU ALUMNUS OF THE YEAR
John Geake, D.O. (Osteopathic Medicine)
Kristen Cunningham, Psy.D. (CPS)
Tamara D. Henson, M.B.A. (Huizenga)
Robert Diaz, J.D. (Law)
Cristina Medina, Pharm.D. (Pharmacy)
NSU EXECUTIVE OF THE YEAR
Paula Habib (Law)
Frank DePiano, Ph.D. (Academic Affairs)
Betty Jean Harris, Pharm.D. (Pharmacy)
Wren S. Newman, SLP.D. (FSEHS)
Hal Lippman, D.D.S (Dental Medicine)
NSU STUDENT OF THE YEAR-OVERALL
Judy Schmelzer (FSEHS)
Jaime Puente (SCIS)
Jessica L. Mackelprang (CPS)
Serena Mann (Huizenga)
Ryan Galka (Law Center)
Lauren Butler (Farquhar)
Gina Pettineo (Pharmacy)
Damian Black (Dental Medicine)
Lance Jordan (Oceanography)
Matthew Seely (University School)
Jessica Hilst (Osteopathic Medicine)
Kayleigh Fessenden (CAHN)
Sara Smith (SHSS)
Michelle Levin (Optometry)
*Previous STUEY winner
Tags: College of Osteopathic Medicine, Miniaci Performing Arts Center, slp, University School