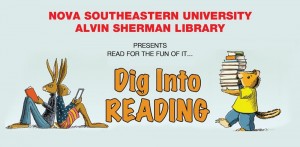 FT. LAUDERDALE-DAVIE, Fla. – Have a blast this summer without spending a dime by making Nova Southeastern University's (NSU) Alvin Sherman Library, Research, and Information Technology Center your one-stop shop for fun activities for all ages.
Located on NSU's main campus in Davie – 3100 Ray Ferrero Jr. Blvd., 33314, the library produces FREE programming for youth, teens and adults which includes stories, songs, puppet shows, special guest performers and more.
Beginning June 15 through Aug. 3, every Saturday is Super Saturday! The festivities start at 1:00 p.m., with super family-oriented activities:
June 15: Double Feature! Guava & Grits Bluegrass Storytelling
Show (all ages), 1:00 p.m. to 2:00 p.m. & Puppets to Go: The Last Dinosaur
Puppet Show (recommended for ages 5 and up), 2:30 p.m. to 3:00 p.m.
June 22: American Tapestry Classical Music Concert
(recommended for ages 5 and up), 2:00 p.m. to 3:00 p.m. in the Rose and Alfred Miniaci
Performing Arts Center. Funded by the Charles P. Ferro Foundation.
Call 954-262-5477 for information about free tickets.
June 29: Juggling, Puppets, and Magic . . . Oh My! 2:00 p.m. to 3:00 p.m.
July 6: Florida Treasures Show: Viva Florida! 2:00 p.m. to 3:00 p.m.
July 13: Professor Magonnigal's Harry Potter Show! 2:00 p.m. to 3:00 p.m.
July 20: Traveling Book Puppet Show, 2:00 p.m. to 3:00 p.m.
July 27: Super Hero Party for Tweens sponsored by Tate's Comics! Costumes encouraged, recommended for ages 9 to 12 year of age. From 1:30 p.m to 3:00  p.m.
August 3: Rock and Roll Interactive Dance Show, 2:00 p.m. to 3:00 p.m.
Registration is open for all ongoing activities throughout the summer:
Starry Night Stories – Mondays: Interactive stories and creative crafts for children. Ages 6-10 (younger siblings are welcome). From 7:00 p.m. to 7:45p.m. Special guest on July 8!!
Totally Tweens Tuesdays: Read and get creative with activities, crafts and games just for tweens. Ages 9 -12, from 2:00 p.m. to 3:00 p.m. Registration required.
Lunch Bunch Wednesdays: Bring and eat your lunch while listening to stories and music, creating crafts, playing games and more. Ages 6-8, from 12:30 p.m. to 1:30 p.m. Registration required.
Silly Stories with The Shermanettes – Thursdays: Be creative with the Shermanettes, winners of the South Florida Parenting Kids Crown Award. Explore art, music, literature and puppetry with silly stories and songs. Special guest on June 27th!! All ages with caregiver, from 10:30 a.m. to 11:30 a.m.
For more information, please visit http://www.nova.edu/library/summer/ or call 954-262-5477
About Nova Southeastern University: Situated on 300 beautiful acres in Ft. Lauderdale, Florida, Nova Southeastern University (NSU) is a dynamic fully accredited research institution dedicated to providing high-quality educational programs at all levels.  NSU is a not-for-profit independent institution with more than 28,000 students. NSU awards associate's, bachelor's, master's, specialist, doctoral and first-professional degrees in a wide range of fields. NSU is classified as a research university with "high research activity" by the Carnegie Foundation for the Advancement of Teaching, and it's one of only 37 universities nationwide to also be awarded Carnegie's Community Engagement Classification.  For more information visit www.nova.edu.
###
Contact:
Felecia Henderson
Office of Public Affairs
fhenders@nova.edu
Cell – 954.383.4695
Tags: Alvin Sherman Library Research and Information Technology Center, Dig Into Reading