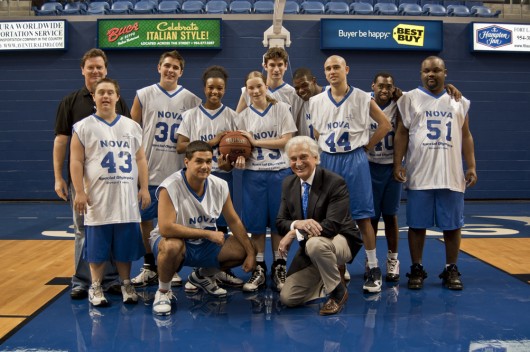 (Photo caption: NSU Board of Trustees member Paul Sallarulo and his son Patrick, left, join Special Olympics Broward County's Nova Sharks basketball team, and NSU President George L. Hanbury, II at the 2011 Annual Area 10 Basketball Tournament.)
Fans and Special Olympics supporters are invited to cheer on and warm the hearts of more than 300 Special Olympics athletes during the upcoming Area 10 Basketball Tournament in the arena at NSU's Don Taft University Center on Saturday, Jan. 14 from 8:30 a.m. to 3:30 p.m.
Athletes from Broward, Palm Beach, St. Lucie, Martin and Indian River Counties will participate in this exciting tournament, for a chance to advance to the state and national levels.
Athletes will compete in individual basketball skills, team skills, 3-on-3 teams, traditional teams and unified teams. They will also bond over their shared love of the sport.
Opening ceremonies will begin at 9 a.m. with a parade of athletes, the Pledge of Allegiance and the National Anthem. The "Flame of Hope" scepter will be symbolically displayed, while all participating athletes will take the following oath: "Let me win. If I cannot win, let me be brave in the attempt."
The day-long basketball tournament will be the second held at NSU, which is the permanent home of the Broward County chapter of Special Olympics (SOBC). The partnership between SOBC and NSU came about as part of a generous gift Don Taft and the Taft Foundation made to NSU in 2009.
In recognition of Taft's contribution, the 366,000 square-foot Don Taft University Center was named in his honor. The gift also provided SOBC with its home at NSU. NSU is the first and only private university to house a chapter of Special Olympics. In addition to providing the group with a permanent office space, the athletes also have access to all of NSU's sports facilities.
For more information about SOBC or to volunteer at future events, please call (954) 262-2150.
Tags: athletes, basketball, Don Taft, parade, SOBC, Special Olympics, Taft Foundation, tournament