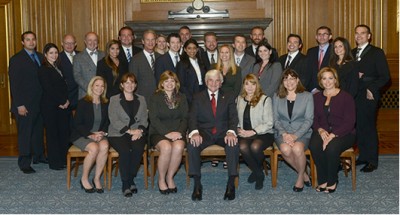 FORT LAUDERDALE-DAVIE, Fla. – A group of 24 alumni from Nova Southeastern University's (NSU) Shepard Broad Law Center were admitted to practice before the Supreme Court of the United States during an induction ceremony held on April 28, 29, and 30 in Washington, D.C.
The alumni appeared before all nine justices of the Supreme Court to be sworn in to the bar of the highest court in the nation. On Monday and Tuesday, Law Center Professor Bruce Rogow, J.D., presented the motion to admit the Law Center alumni to the Supreme Court Bar. Visiting NSU Professor Tim O'Brien, J.D., presented the motion to admit on Wednesday. As a member of the Supreme Court Bar, Professor Rogow has argued 11 cases before the justices. Professor O'Brien has covered the Court for ABC News and CNN.
Chief Justice John Roberts granted the motions as presented by Rogow and O'Brien. Subsequently, all 24 alumni recited the oath to uphold the U.S. Constitution and were admitted to practice and argue cases before the Supreme Court. The attorneys remained in the courtroom to watch oral arguments, which occurred on all three days.
The alumni were members of the Bars of the states of Florida, Maryland, Pennsylvania, and the District of Columbia and were found to possess the necessary qualifications for admission. Among them, an applicant must be admitted to practice in the highest court of a state, commonwealth, territory, possession, or the District of Columbia for at least three years immediately before the date of the application. Each candidate also must not have been the subject of any adverse disciplinary action during that time and must appear to the Court to be of good moral and professional character.
On Monday, alumni were joined by NSU President George L. Hanbury, II, Ph.D; NSU Vice President for Advancement and Community Relations, Jennifer O'Flannery Anderson, Ph.D; NSU Executive Director of Alumni Relations, Sharon Sullivan; NSU Law Center Interim Dean Elena B. Langan, J.D; and NSU Director Alumni Relations Elena Minicucci, J.D.
The Law Center and NSU's Alumni Association hosted an evening event at Bistro Bis to celebrate the occasion which was also attended by alumni from the DC area. The guest speaker for the evening was NASA Deputy Chief Scientist Gail L. Allen, D.B.A ('02), who was also one of NSU's 2013 Distinguished Alumni award recipients. Allen discussed "Finding Life 'Out There' the Future of Space Exploration." President Hanbury shared his vision for NSU and told the group about new developments and initiatives at the university.
Those admitted to practice before the nation's highest court included:
Karey L. Bosack Greenstein '05          Dennis Moore '93
Melina Buncome '93                             Thomasina Moore '93
Clarissa Cabreja '03                              Victoria Morton '03
Jason Chodos '06                                  William O' Connor '00
Prince Donnahoe '95                            Bartosz Ostrzenski '02
Molly Gaussa '02                                   Ignacio Sarmiento '05
Natalie Giachos '06                               Kara Schickowski '07
Luis Gomez '96                                      Scott Smiley '03
Joshua Goodman '98                           Mark Solomon '79
Jose Guerrero '03                                 Keith Sonderling '08
Samantha Fitzgerald '99                     Chad Van Horn '09
Trisha Hewes '09                                  Ethan Wall '07
-30-
About NSU's Shepard Broad Law Center: Nova Southeastern University's Law Center offers a rigorous traditional academic program in three-year day and four-year evening versions. NSU Law prides itself on preparing graduates to make a smooth transition from the classroom to the courtroom or boardroom. Lawyering Skills and Values (LSV)-Every student completes a four-semester LSV sequence that combines traditional legal reasoning, writing, and research with an introduction to lawyer interviewing, counseling, negotiating, mediating, advocating, and other critical skills in a simulated law firm experience. For more information please visit http://www.nsulaw.nova.edu/
About Nova Southeastern University: Situated on 314 beautiful acres in Ft. Lauderdale, Florida, Nova Southeastern University (NSU) is a dynamic fully accredited research institution dedicated to providing high-quality educational programs at all levels.  NSU is a not-for-profit independent institution with 27,000 students. NSU awards associate's, bachelor's, master's, specialist, doctoral and first-professional degrees in a wide range of fields. NSU is classified as a research university with "high research activity" by the Carnegie Foundation for the Advancement of Teaching, and it is one of only 37 universities nationwide to also be awarded Carnegie's Community Engagement Classification. For more information, please visit www.nova.edu.  Celebrating 50 years of academic excellence!
Media Contact:
Felecia Henderson, Ed.D. | Office of Public Affairs
954-262-5315 (office) | 954-383-4695 (cell)
fhenders@nova.edu