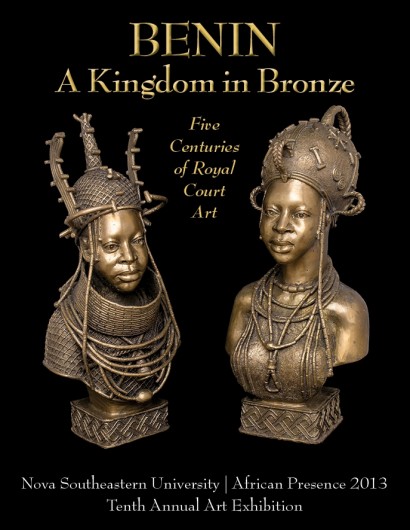 Bronze treasures from the Royal Court of Benin will be on display at NSU as part of the university's 10th Annual African Presence Exhibition, opening on Thursday, Jan. 31.
This year's exhibition, Benin: A Kingdom of Bronze, exhibition features more than 80 pieces of artwork from the Royal Court, crafted in brass, wood and terra cotta. The collection comes to NSU from the Ebohon Cultural Center of Benin City, Nigeria, which is among the largest private museums in West Africa and holds a collection of more than 7,000 pieces and related historical documents dating back to the 18th century.
African Presence Opening Reception will be hosted from 6:30 to 8:30 p.m. on Thursday, Jan. 31 in NSU's Don Taft University Center. It will feature refreshments, giveaways, musical entertainment and dance performances, culminating in a trip to the Second Floor Gallery, where the exhibition will be unveiled.
The reception is free, but RSVP is required by calling 954-262-5357 or emailing serioux@nova.edu.
After the Opening Reception, Benin: A Kingdom of Bronze will be on display until Feb. 26. The exhibit is also FREE and open to the public Monday through Friday from 8 a.m. to 9 p.m., Saturdays from 9 a.m. to 8 p.m., and Sundays from 11 a.m. to 9 p.m.
Benin: A Kingdom of Bronze is also part of NSU's Annual Black History Month Celebration; for more information, please visit www.nova.edu/blackhistory.
Tags: 11, Africa, African Art, african presence, ALA, Alvin Sherman, Alvin Sherman Library, annual, ARC, art, Artwork, Black History Month, Celebration, COM, Cultural, Cultural Center, dance, Display, Doc, Don Taft, Don Taft University Center, Email, Exhibit, free, gallery, Giveaways, history, IMA, ING, LAS, Library, LLI, museum, Music, Musical, musical entertainment, Niger, NSF, NSU, Open to the public, PA, performance, Performances, play, production, Reception, RI, SAGE, SAT, SEC, Second Floor Gallery, sun, TED, trip, un, Unveil, Veil